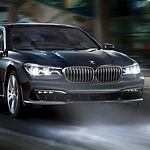 The BMW 7 Series is a remarkable sedan that performs well on all levels. You won't find any known weaknesses with this luxury-sport sedan. Consumers can expect plenty of legroom in its cabin, a good amount of trunk space as well as premium interior features. Let's dive in because there's much more.
The BMW 7 Series rides like a champion with its light steering and precise handling. This full-size sedan just so happens to be based on luxury and performance. An adequate amount of cornering grip can be expected as well as plenty of raw power from its turbocharged engine. The BMW 7 Series will come with a 16-speaker audio system from Harman & Kardon. This sound system is powered by a 464-watt amplifier. There's also leather-appointed seats, a 12.3-inch cluster display and a 10.25-inch center display.
We want serious buyers to stop by our showroom for a close-up tour of the new BMW 7 Series.