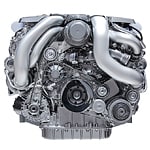 A clean engine is a cool engine, and that's what most car owners want most. If you run a tight ship on your automobile, a good engine clean is a terrific way to fine-tune your car's appearance.
Steps to Clean Engine
Prepare your materials. You'll need all-purpose cleaner, wipes, plastic bags (grocery bags work fine), water, and plastic or metal polisher. You can also use a de-greaser to get out the tougher dirt and grime. Oil and grease often sink in and are more difficult to remove. De-greaser works great in this situation.
1. Put plastic bags…