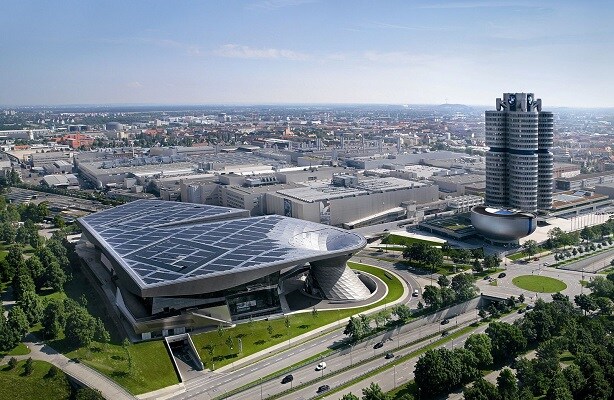 Meet your BMW in the city it was born.
An alternative to driving home from the dealership, is the European Delivery option.  Meet your new BMW in Munich Germany at BMW Welt.  Immerse yourself in BMW culture.  Attend VIP tours of BMW facilities, accelerate onto the world famous Autobahn, choose from five driving experience options and indulge at world-class hotels.  At the end, we will handle the shipping logistics of your BMW back to your home.

European Delivery price provides:
Courtesy shuttle service from Munich Airport to BMW Welt, or to your downtown Munich Hotel.
Insurance - 14 days of complimentary European road insurance and vehicle registration.
VIP Experience - receive factory and museum tours.
European inland transportation from the drop-off point to the nearest port to your hometown.
Marine transportation insurance for your BMW.
Customs duty and clearance.
U.S. port processing and accessory installation.
Wharf and handling fees.
The BMW experience of European Delivery begins here at Global Imports BMW.

1. Order you BMW from Global Imports and save
Visit Global Imports BMW to learn more about models, options and accessories.   Then reserve your BMW.  You may even save off the MSRP.

2. Plan you trip
Fly with Lufthansa, or any of their Trans-Atlantic Joint Venture Partners, from the United States to Munich, Germany.  While on-board, relax and enjoy their award-winning in-flight service.  This all-encompassing program offers discounts of up to 15 percent in all cabins, including: Economy, Business and First Class.
3. Pick up your new BMW
The BMW experience will begin at the illustrious BMW Welt automobile delivery and exhibition center.  It provides drivers and fans of The Ultimate Driving Machine ® the opportunity to understand BMW technologies, design philosophy and the history of the BMW brand name.   If you are traveling with young children, a Junior Campus offers experiences that will inspire their imagination, while gaining technical knowledge of cars too. 
European Delivery includes a factory tour, BMW Museum tour, complimentary refreshments at the Delivery Center and more.  Your BMW will be available on the delivery date as specified on your order form. 

4. Drive your BMW through Europe
Your first weeks with you BMW will be unforgettable.  Experience firsthand, what it is like to drive on the Autobahn.  Drive through and explore European cities, towns and the country side from the comfort of your BMW. 
The European Delivery program offers several optional driving adventures that will allow you to experience the best of European hospitality in world-class hotels.  Select from the following outstanding itineraries, or you can customize your own itinerary. Ultimate luxury tour programs incorporate some of the most luxurious 5-star hotels in Europe that are organized into three unique programs.  They range from five to six days in length:
Lakeside Luxury; Castles and Mozart; Spa, Sport and Drive.
Sampler Serenade - Tour programs designed for shorter stays of three to four days in duration.
The Black Forest & The Castle Road.
'Build your own' - Custom-tailored itineraries to best fit your travel needs.

5. Return Home
Meet your BMW at your home.  At the conclusion of your trip, drop your car off at one of twelve sites located within the Netherlands, France, Germany, Italy, Belgium, Austria or Switzerland.