BMW Battery Service

Benefits of a Battery Service
A battery service increases the life of your vehicle's battery and gives you a piece of mind about potential breakdowns that could leave you stranded. Other systems in your vehicle also depend on a healthy battery and can shut down or pose hazards should the battery begin to fail. For example, headlights become dimmer when a battery weakens, increasing the risk of an accident as your field of vision decreases during night driving. Interior and dashboard lights also become less brilliant and may cause you to misread essential information such as speed and fuel supply. Global Imports offers great service specials that are performed by certified automotive technicians that know your vehicle.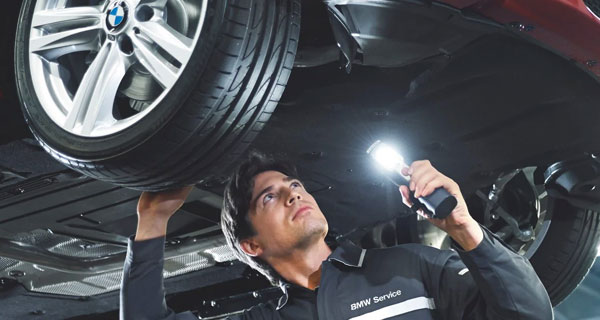 Global Imports BMW
500 Interstate N Pkwy, Atlanta, GA 30339
Serving
Atlanta

,

Sandy Springs

&

Marietta

Global Imports' staff includes industry-certified technicians with years of experience in maintaining, diagnosing, and installing vehicle batteries and electrical systems in many makes and models of vehicles. That is important with the variety of electric, hybrid, and other technologically-advanced cars on the road today. Certified technicians need to recertify on an ongoing basis to keep up with new equipment and vehicle makes and models. Non-certified technicians may use your vehicle as a "learning tool" and make mistakes. However, mistakes can lead to additional vehicle problems. An improperly-installed part can cause unwanted noise, a decrease in engine performance, or even cause you to be stranded at some random time while on the road. In the worse-case scenario, an installation error can cause an accident. Our goal is to get the service done right the first time. We take your safety and the investment you've made seriously by hiring trusted and proven technicians.
Atlanta Battery Service
We only use quality OEM parts when replacing your battery or other electrical components. That means our parts are sourced from an original manufacturer in the vehicle's certified supply chain and not from some unknown company. These parts are guaranteed to be identical and have the same or better quality as when your part was new. OEM parts also possess the same functionality that is required to maintain your engine's precise operational parameters. Although non-OEM parts initially cost less, they may cost you more in the long run since they lack a guarantee for quality, the right fit, and function as required by your vehicle's manufacturer. For example, if your battery is replaced with a non-OEM model, then that manufacturer likely just reverse-engineered an OEM battery to make their own. The non-OEM battery's material and functional quality will not be precise since it was not developed with your car manufacturer's original design specifications.
Hours
Monday

7:00 AM - 6:00 PM

Tuesday

7:00 AM - 6:00 PM

Wednesday

7:00 AM - 6:00 PM

Thursday

7:00 AM - 6:00 PM

Friday

7:00 AM - 6:00 PM

Saturday

8:00 AM - 4:00 PM

Sunday

Closed