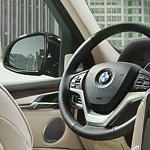 BMW has orchestrated the best mixture of high class and sport for dedicated drivers around Atlanta. The BMW X5 comes with great settings that have been proven to enhance, usability, performance, and overall enjoyment. This mid-sized vehicle operates as a high-class SUV that gives drivers lots of space for any place and time.
Atlanta shoppers can also benefit from versatile all-wheel drive and rear-wheel drive options. Each choice works phenomenally with their high-powered 6-cylinder twin-powered turbo engine. This setting was created to excel on all driving surfaces.
Shoppers can also appreciate intricate seat designs with a timeless and sporty touch that increases visual attraction along the ride. Shoppers can also feel safer with advanced settings like frontal collision warnings and blind-spot detectors. These are all settings that are activated by the best cameras and sensors for a driving experience that leaves you and your loved ones feeling better prepared for anything.