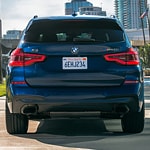 If you're looking for a capable and luxurious vehicle, we have a variety of models at Global Imports BMW. Our BMWs are all very impressive and will certainly meet your expectations regarding performance. For those of you in need of a two-row SUV, we recommend that you consider the X3. It's been quite popular in our local market, and for good reason.
At the minimum, this X3 can come with 248 horsepower. The base trims are powered by turbocharged four-cylinder engines that give them the ability to hit that mark. Upgraded X3s have larger engines that are also turbocharged. With a six-cylinder engine under its hood, the X3 can make 382 horsepower. All-wheel drive is an option to think about if you ever have to deal with more rugged conditions.
The cabin is really refined, with plenty of amenities to keep you comfortable. You can either have a 10.3-inch touchscreen or a larger 12.3-inch version.