BMW Brake Service

Benefits of a Brake Service
It's no secret that a car's battery is key to its performance. With that being said, not everybody knows exactly what it is that a car battery does. A car battery's main job is to convert chemical energy into electrical energy. With this new form of energy, the car is able to deliver voltage to its starter and get the car powered on. Once powered on, the car is able to perform all of its normal functions. However, when a car battery gets old, the car's performance can start to suffer. For example, an old car battery can have trouble delivering power throughout the vehicle. A new car battery will not have this problem and will help your vehicle perform to the best of its ability. An old car battery is also much more prone to just stop working than a new car battery. This could leave your car unable to operate and render it useless.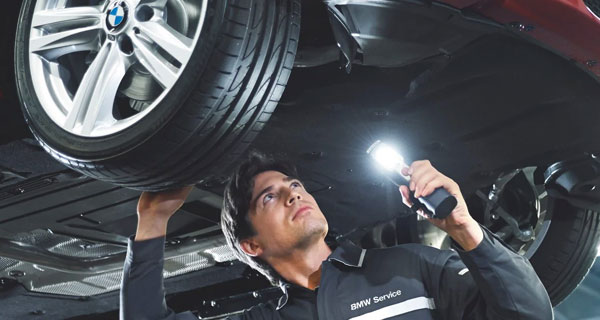 Global Imports BMW
500 Interstate N Pkwy, Atlanta, GA 30339
Serving
Atlanta

,

Sandy Springs

&

Marietta

At Global Imports BMW, we have a team of certified mechanics and technicians. This team is highly trained to work on your BMW vehicle. We are experts when it comes to brake inspections, repairs, and replacements. Whether you just need your BMW's brake pads replaced or your brake rotors remachined, we can determine which maintenance or repair service is best suited for keeping you safe while driving.
Atlanta Brake Service
Global Imports BMW is committed to using only OEM (original equipment manufacturer) parts to ensure quality maintenance and repairs. With OEM parts, you will always get the product that is the best replacement for your vehicle. If you are using aftermarket parts, finding high quality parts can be an issue. Make sure the brakes on your BMW are properly inspected, maintained and serviced. Visit our BMW service center in Atlanta for more information on our service specials today!
Hours
Monday

7:00 AM - 6:00 PM

Tuesday

7:00 AM - 6:00 PM

Wednesday

7:00 AM - 6:00 PM

Thursday

7:00 AM - 6:00 PM

Friday

7:00 AM - 6:00 PM

Saturday

8:00 AM - 4:00 PM

Sunday

Closed