The automotive industry is abuzz with anticipation of the 2019 BMW X7, the quintessential luxury SUV about to make its debut. X7 features groundbreaking design and a commanding presence in an amazingly innovative vehicle while providing an extraordinary amount of comfort and space.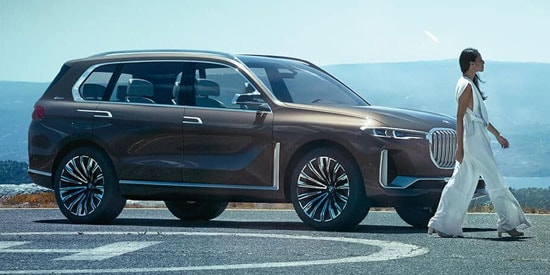 Exterior
You'll make a grand entrance in the 2019 BMW X7, a charismatic vehicle from any angle. It's extreme agility and finesse belies its generous proportions. You'll be immediately drawn to the flowing, forward-moving design lines and the narrow styling of the rear. The iconic kidney grilles with their upright stance communicate true superiority and grandeur, as do the prominent air inlets and the elegant contours. In a word, the 2019 BMW X7 looks great.
Interior
You'll feel you're entering a palatial estate when you open the door to the X7 and surrender to the embrace of spatial luxury. Glass abounds, with generous windows and the panoramic glass roof that extends from the windshield to the rear. The result is a feeling of airiness that gives the phrase "out on the road" new meaning. The finely detailed and exclusive seats are a mix of fine Smoke White and Dark Olive Bronze leathers. The cabin's handcrafted perfection is exemplified by the blend of light and dark elements creating tranquility and balance. The cabin gleams with polished aluminum elements, dynamic ambient and contour lighting, and even strands of laser light in the roof. Dark-stained, open pore ash wood with a matte finish perfectly harmonizes with the interior's bright elements.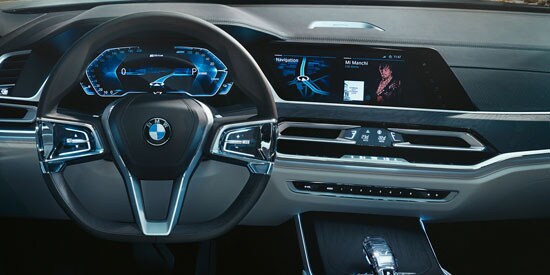 Spacious Seating for up to Seven
As the largest Sports Activity Vehicle offered by BMW, the X7 achieves new levels of roominess and comfort. The raised seating provides the driver with unprecedented visibility, and the "reduced to essentials" theme is abetted by the 12.3-inch instrument cluster that puts control at the driver's fingertips. The second-row Captain's Chairs allow easy access to the third row, so that you never feel squeezed when riding in the X7.
Connectivity
X7 encourages functional and playful interaction with features like rear-seat touchscreens that give second-row passengers access to a world of infotainment. A new, cutting-edge interface allows first- and second-row passengers to share with each other and with the world at large.
Contact Global BMW to test drive your 2019 X7.
Image showing is a concept model of the BMW X7 iPerformance