BMW Tire Service

Benefits of a Tire Service
Keeping up with the care and maintenance of your BMW can seem challenging when you lead a busy life, but tire maintenance is an aspect of vehicle ownership that you do not want to overlook. When your BMW's tires are properly inflated and have sufficient tread, they can promote a smooth, steady and safe ride. They also can help your vehicle to operate with exceptional fuel economy, and they can minimize the impact of unnecessary wear and tear on numerous parts throughout the vehicle. However, when air pressure, tread and other features of your tires are not tended to through tire maintenance services, each of these factors can become a serious issue for the vehicle owner. Now that you can see how essential it is to schedule professional tire service for your vehicle on a regular basis, you need to understand why Global Imports BMW's service center is your preferred option in the Atlanta area.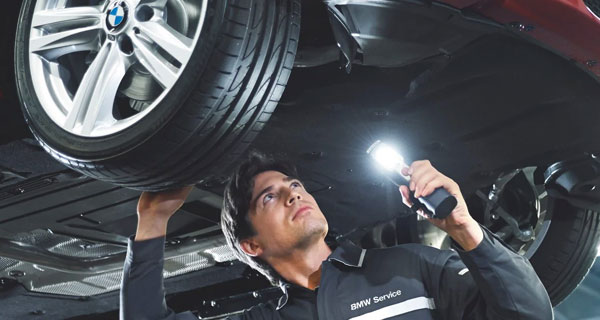 Global Imports BMW
500 Interstate N Pkwy, Atlanta, GA 30339
Serving
Atlanta

,

Sandy Springs

&

Marietta

Regardless of whether your vehicle needs tire services for maintenance or repair work or any other types of services are needed at this time, finding a team of well-trained technicians may be a primary goal. At Global Imports BMW, we understand your concern when it comes to selecting the most well-qualified individuals to assist with vehicle services, and we strive to address this concern head-on by only hiring certified technicians. Each member of our team has walked through the extensive training and education steps required to become certified. Certification includes gaining skills for all types of services rather than only tire services. It also includes training for all types of vehicles. You can see that there is no vehicle repair or maintenance task that our team is unable to handle with amazing results. We have also equipped our certified technicians with advanced equipment and tools to ensure that they can properly use their knowledge and skills.
Atlanta Tire Service
Global Imports BMW offers more than service from a certified automotive specialist team. We also provide service that is completed using OEM parts. We understand that it takes more than the right tools and knowledge to impress our clients with a job well-done. You need quality replacement parts used in all services for your vehicle, and our use of OEM parts ensures that we meet your expectations in this area. We also take the additional step of providing exceptional services at times that are convenient for you. Many of our customers have busy lives, and they are not always able to drop by during traditional business hours. We are open to serve you with early morning and evening hours most days of the week. From our sales and financing departments to our service department, we want you to love your experiences with Global Imports BMW each time you visit our dealership. If your tires are showing signs of an issue or if it is time to get your tires serviced for proper maintenance, we are the trusted service center to reach out to. We want to begin working on your vehicle as soon as you arrive to ensure prompt results, so call us today to request an appointment for your BMW's tire services.