BMW Alignment Service

Benefits of an Alignment Service
A reputable service center must consistently maintain vehicles, which is especially true for luxury brands such as BMW vehicles. One way to keep your car or SUV in stellar condition is by scheduling a wheel alignment service with Global Imports BMW. Proper wheel alignment does several things for your vehicle. It ensures that your tires are parallel. A wheel alignment service maintains the tread on your tires and prevents your car from being pulled to the right or left side of the road. A wheel alignment is a preventive service. For that reason, you shouldn't wait until your BMW is showing signs of improper alignment before you schedule a service. Our online service portal is a convenient way for you to schedule service using your computer, tablet or smartphone. Our representatives are available to set up appointments during our business hours.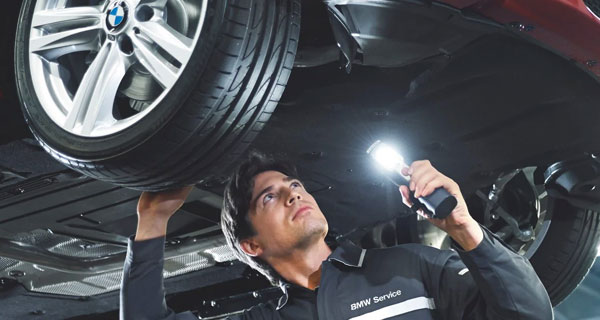 Global Imports BMW
500 Interstate N Pkwy, Atlanta, GA 30339
Serving
Atlanta

,

Sandy Springs

&

Marietta

At Global Imports BMW, the primary goal of our service center is to repair your vehicle according to the manufacturer's specification. BMW vehicles are luxury vehicles that require service from certified automotive technicians who understand the needs of the brand. Our service center has performed countless services including wheel alignments, brake replacements, oil changes and transmission repairs. Whether you purchase a new or used vehicle from Global Imports BMW, our mechanics and technicians can service your car. After you buy one of our pre-owned vehicles of any make or model, you can drop it off at our service center for maintenance or repairs.
Atlanta Alignment Service
The brand of parts that we use to repair your BMW vehicle makes a difference in the way your vehicle functions. Our dealership only uses original equipment manufacturer parts (OEM). OEM parts offer consistent quality and dependability. As the owner of a luxury vehicle, you've invested a significant amount of capital in the BMW brand. We don't want to shortchange you by using aftermarket parts on your car. BMW vehicles should be powered by OEM parts that are manufactured according to high standards.
Hours
Monday

7:00 AM - 6:00 PM

Tuesday

7:00 AM - 6:00 PM

Wednesday

7:00 AM - 6:00 PM

Thursday

7:00 AM - 6:00 PM

Friday

7:00 AM - 6:00 PM

Saturday

8:00 AM - 4:00 PM

Sunday

Closed